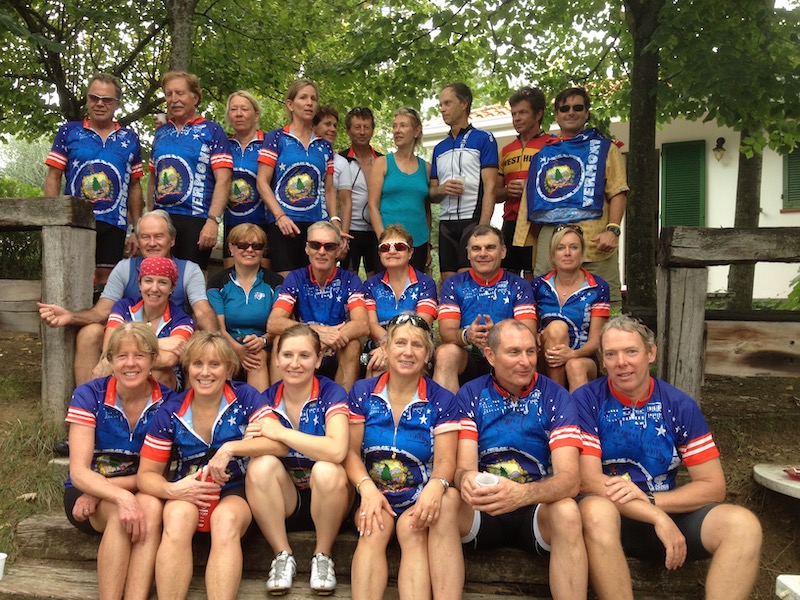 A crew of experienced Italian guides, three delicious and healthy daily buffets, and après cycling gatherings all centered around the beautiful Hotel Dory a block from the Adriatic Sea.
Come as a group or meet up with others and you will be sure to return year after year as so many do. One would expect such a program to be very expensive but as one client put it, "It's cheaper than staying home!" Book through your American hosts Fern and Joe Wagner for a discount.
Highlights
If you have any questions, feel free to reach out to us.
Guided Cycling
With a full fleet of carbon road bicycles and a crew of experienced Italian guides you'll be assured help and leadership to navigate all roads and conditions.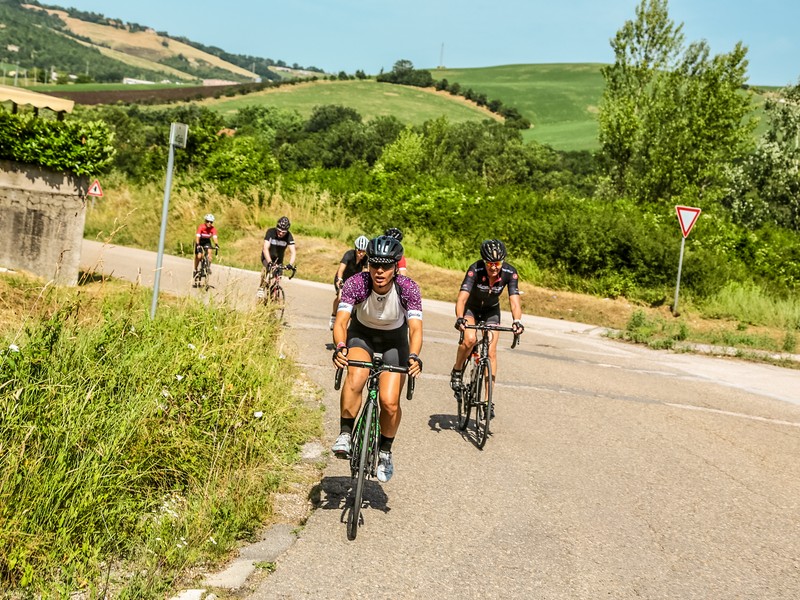 The guides will shepherd you through the stunning countryside. Be sure to ask for a photo stop when a view catches your attention.
Each day guides lead different routes designed for five levels of ability. Browse the routes on Hotel Dory's website.
There are several different bike options including the ability to bring your own. Prices will vary depending on your choice. Prices are available when booking.
Cycling Hotel
In the summer, Hotel Dory in Riccione, Italy is filled with European visitors enjoying the beautiful Adriatic beaches. The family owners saw opportunity in the spring and fall when the weather is ideal for cycling.
Cyclists from around the world come to Hotel Dory to enjoy the terrific countryside and coastline.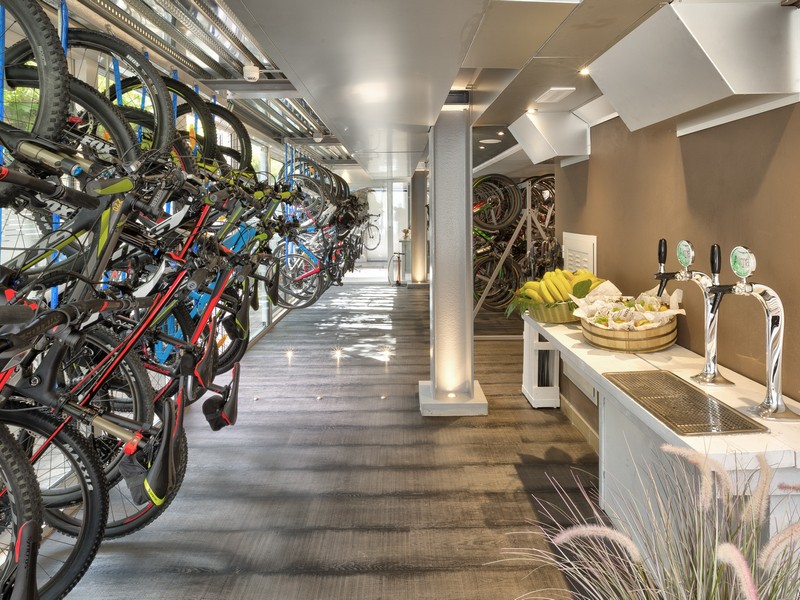 Hotel Dory is a member of Italy Bike Hotels, which means they're dedicated to people passionate about cycling and providing a premium experience for them.
Laundry service for technical clothing and shoe drying facilities
On-site rental service and mechanic
Equipped area for washing bicycles and inflating tyres with cleaning materials
Medical assistance and physiotherapy services available on request
Click here for details about rooms
Food
Breakfast includes delicious homemade pastries, wholesome local cold cuts and fresh seasonal fruit, eggs and bacon. Lunch replenishes all of your energy reserves with fresh pasta, lots of salad and vegetables, meat and fish along with bread and sweets. Dinners serve up culinary themed evenings or varied and delicious buffet menus featuring over 20 different dishes a day.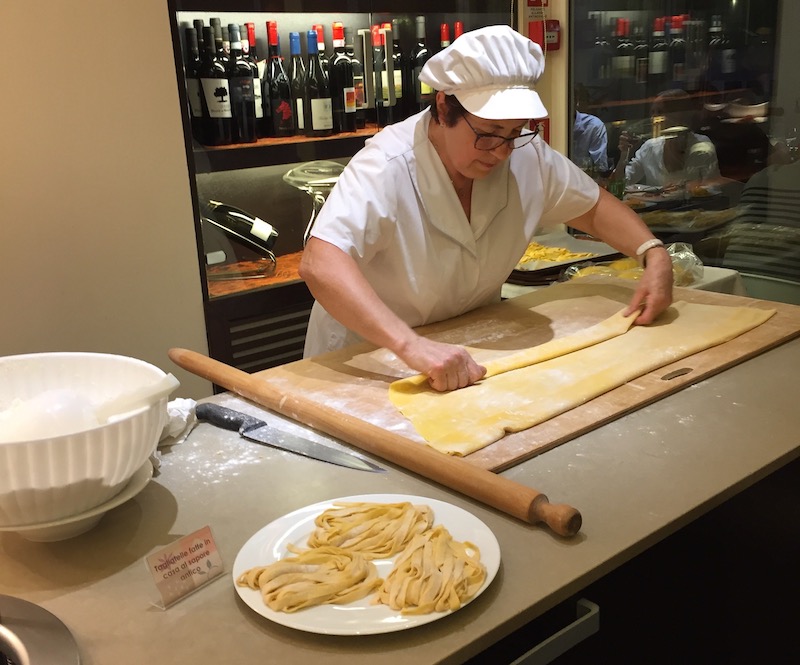 Bread, piadina, biscuits and jam tarts are all homemade and the pasta is handmade using just flour, eggs, salt, good olive oil and a rolling pin. Our buffet includes fresh salads and freshly-caught fish and there's an area dedicated to organic produce and even olive oil and vinegar menus for the most demanding palates.
Wine lovers with find a selection of regional wines, some of which are nationally-renowned and dessert lovers will lick their lips at our confectionery.
Day to Day
After awakening to lots of sunshine most days, you'll make your way to the dining room for a limitless buffet of breakfast selections. When your appetite is satisfied, you'll head to the bike room to ensure your bike is in good working order with a mechanic on duty if you need help. Once you grab a banana and sandwich from the basket you'll be ready to line up by group in front of the hotel.
All groups take at least one coffee break where you can eat your sandwich or purchase some tempting food item. After your ride a buffet lunch will be waiting to replenish all of you r energy reserves.
Take the rest of the afternoon to head to the beach or relax at the hotel with a sauna, steam, or whirlpool jet break. A masseuse is available by appointment at the front desk. There is also great shopping down the street. Be cognizant of siesta hours as shops do close for several hours each day. Maybe a good time for a nap for you too?
Cocktails and Hors d'oeuvres begin at 6 and dinner opens at 7.
After dinner there may be some organized evening activity or take a walk to a local gelateria. You can try a different one each day.
As you begin again, weather is usually sunny and cool in the morning, arm warmers and light vest, giving way to temps in the mid 70's to low 80's. Rain this time of year is unusual, but please be prepared. If a rain day is called by the guides, then they will switch out with the "rest" day.
We also put together a list of what to bring so you can make sure you're prepared.
Special Events
Some weeks include special events like attending stages of the Giro d'Italia or a multi-day excursions to other parts of Italy. See the dates and booking section for details.
Travel
You should book your flights to Bologna Airport (BLQ) to arrive in the morning or early afternoon. Departures need to be after 10am to provide time to drive to the airport. Hotel Dory is approximately a 90 minute drive to Bologna Airport.
Within these parameters, Dory will include transfer service at no additional charge when you book the recommended "Style" option.
When booking, your layover should be at least 1 hour and hopefully no longer than 2 hours. There aren't any direct flights to Bologna from the United States.
Alternately, you can arrive by train to Riccione Train Station.
Pricing
A week costs approximately $1,300 per person based on double occupancy and room selection. It's also subject to the exchange rate at the time of departure (€ 100,= / $ 107.= *).