Do you love to cycle and travel? If so, Cycling Journeys is the community for you! We explore the world on our bikes cultivating new experiences, making new friends, and enjoying the best of life.
We go on several different adventures each year and hope you'll consider joining us for one or more of them!
Our Next Trip
Our next trip is to Hotel Dory where we'll have a crew of experienced Italian guides, three delicious and healthy daily buffets, and après cycling gatherings all centered around the beautiful Hotel Dory a block from the Adriatic Sea.
Our Past Adventures
If you're not already sold, take a look at some of our past adventures.
The Shores of Gabicci Mare
One beautiful evening we rode our bicycles to the shores of Gabicci Mare where we boarded a boat for a sunset cruise, bikes and all.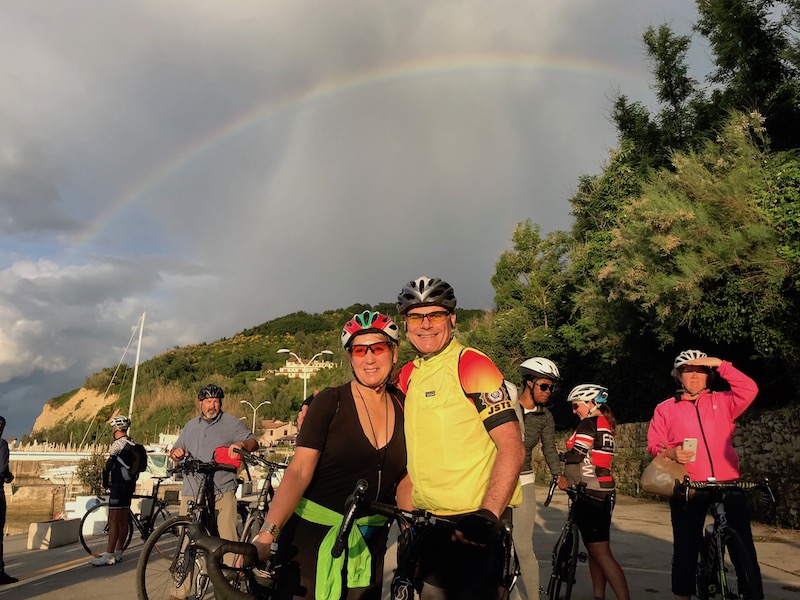 We sailed the Adriatic eating delicious fresh caught fish and landed in the port of Cattolica several lovely hours later. We rode our bicycles back to Hotel Dory on a lighted bike path. It was an evening to remember.
L'Eroica
Let us tell you, it's hard riding old bikes! Old brakes, cages, and simple gearing to say the least. It makes L'Eroica that much more awe inspiring. It's an event held each year in Gaiole in Chianti as a celebration of all things cycling.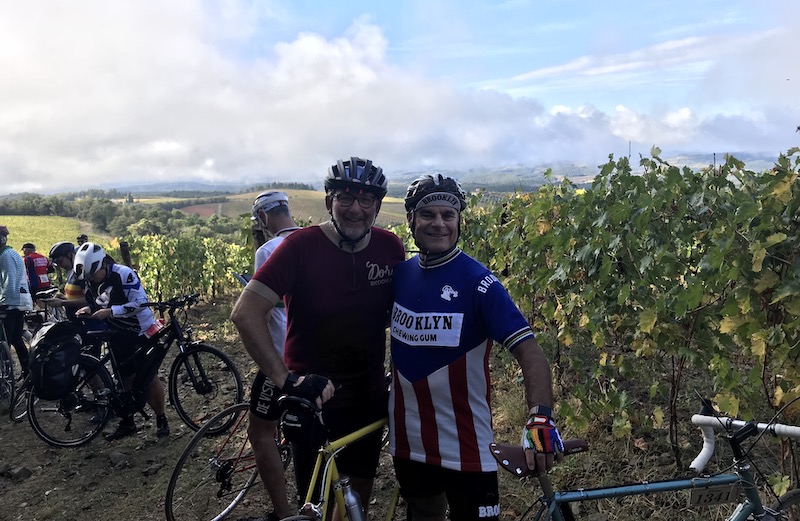 Joe had a fantastic ride with Stefano where they donned vintage clothing and rode their refurbished old bikes on unpaved roads as a tribute to the history of cycling. He was blown away by people along the route opening their home while handing out wine, cheese, and all kinds of Italian specialties.
Siena
We made it to the famous square in Siena where the Palio (horse race) is held each year.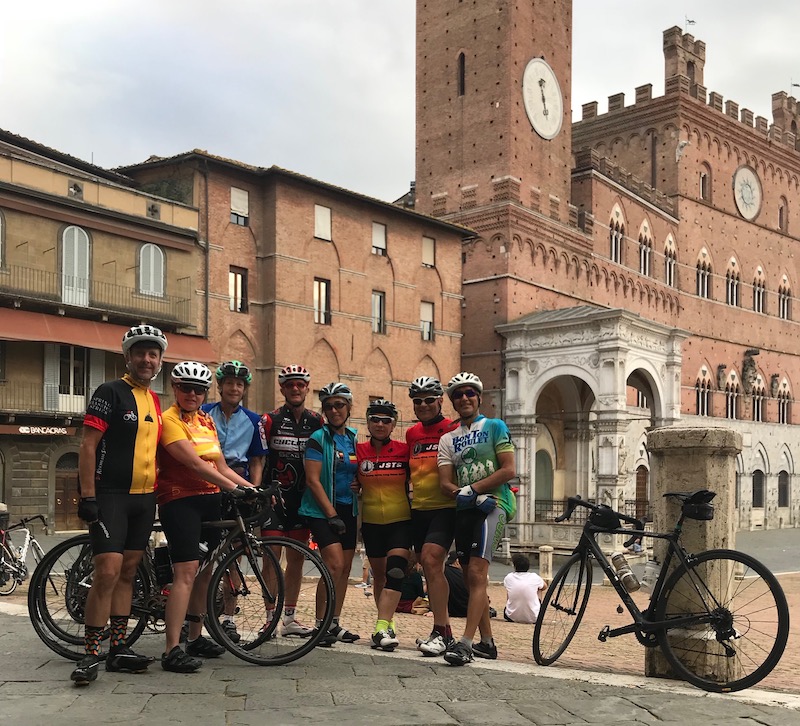 We biked all the way from Hotel Dory over two days. The most fun challenge came climbing up to the city on cobblestone streets. We all thought we reached the top of the 17% climb when Andrea, our fearless and accomplished guide, yelled back that we had to turn the corner and climb some more. Even as we groaned we managed to gasp and climb the last meters to our hotel!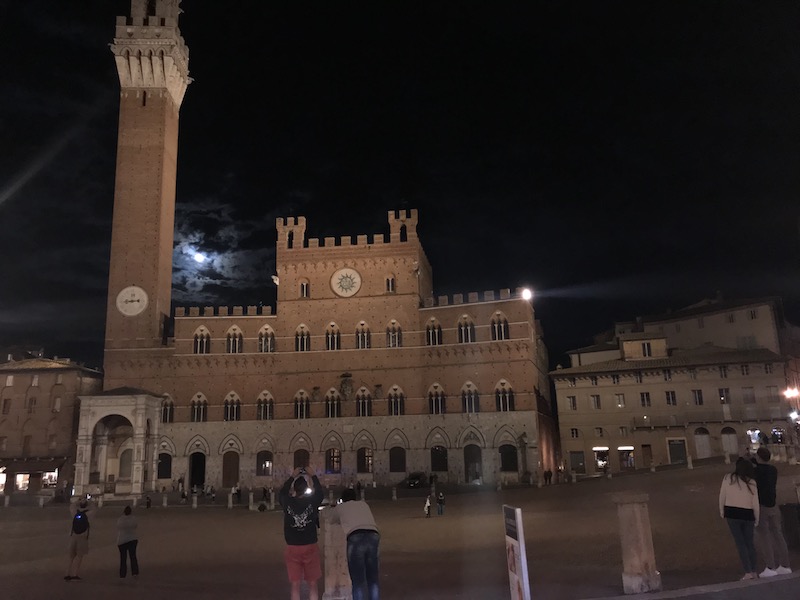 On the first evening in Siena we ate a delicious meal with lots of local specialties al fresco. Watching the moon rise perfectly framed behind the Piazza del Campo brought a pleasant calm over us.
Dinner in the Heart of Riccione
A special night for a celebration of good friends hosted by Stefano of Hotel Dory fame in downtown Riccione.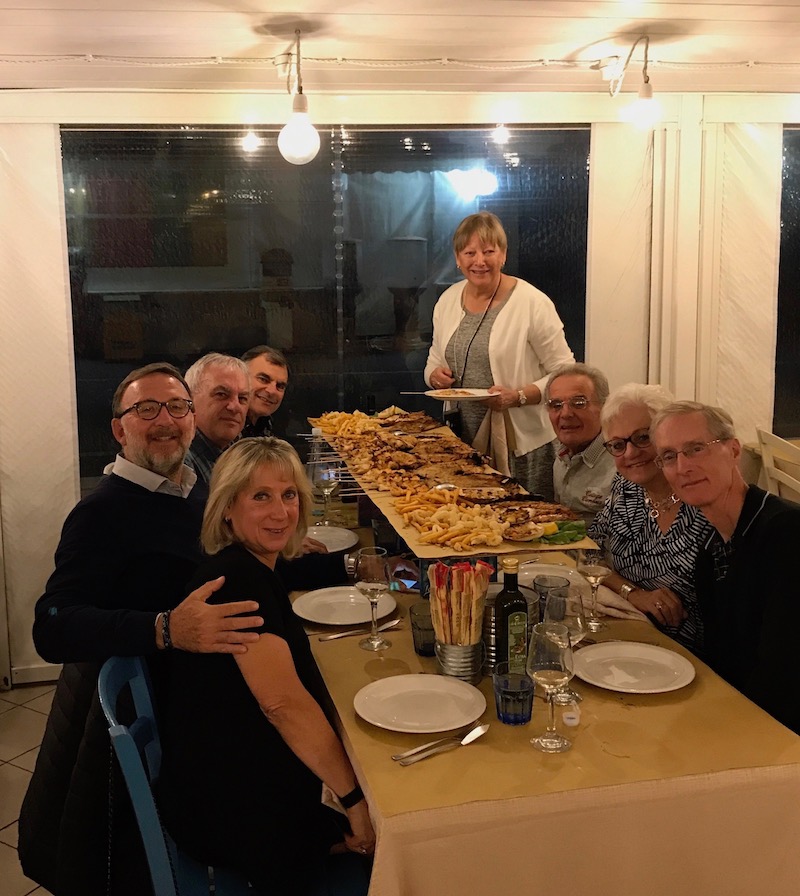 The photo doesn't even show the complete feast of freshly prepared fish from the Adriatic.
The Giro D'Italia
The energy while walking around the city before the start of the Giro D'Italia in Ferrara was palpable. Old people, young people, school children with their classmates, families, and all cycling enthusiasts gathered to watch their heroes begin their long grueling ride to the next city.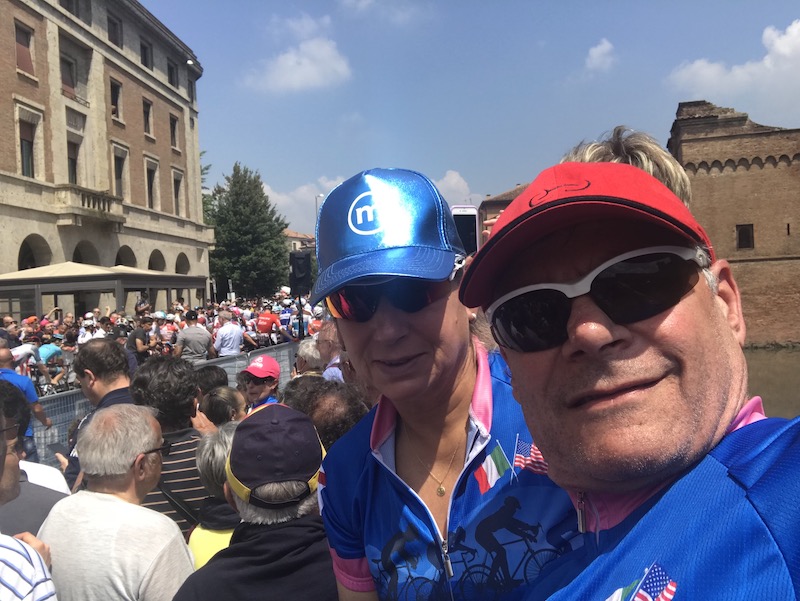 Later in the Tour, Vlady, a retired tour professional and one of the amazing guides from Dolci Colli, escorted us to a mountain stage where Italian specialties and Prosecco awaited us.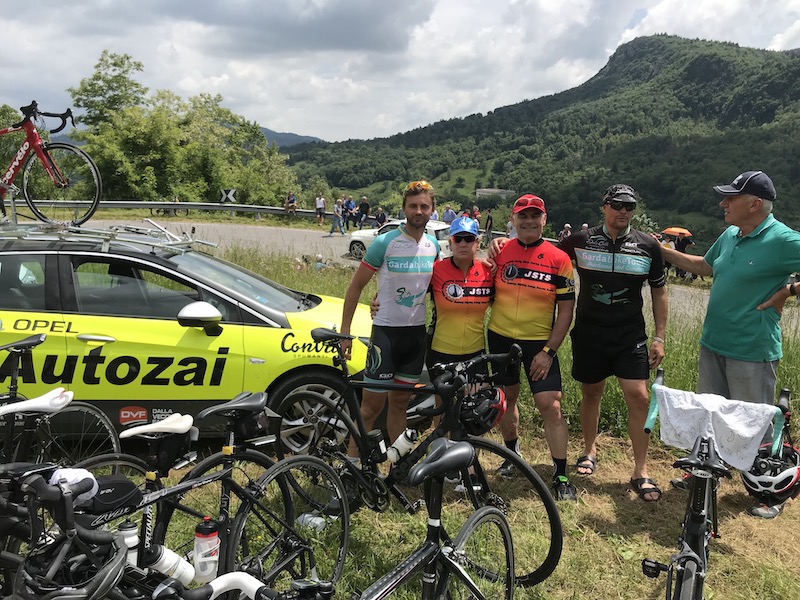 It was incredibly exciting to hear the helicopters overhead as the riders approached. Cheering erupted as the leader came into view climbing the mountain faster than we could ever imagine.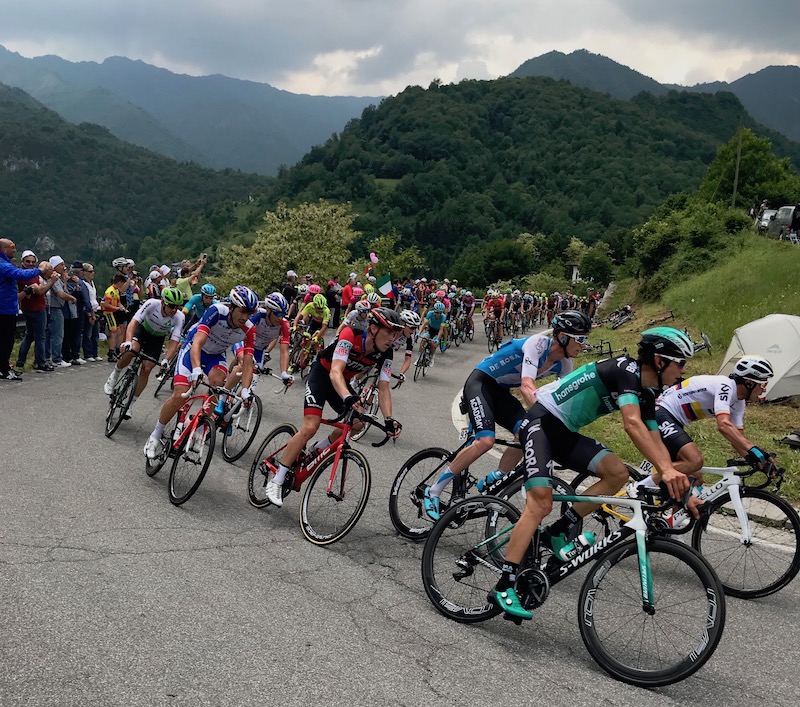 After the riders came through we grabbed our bikes for a most rewarding descent.
Lake Garda
It was a hard climb up the hills near Lake Garda but well worth the incredible views and the feeling of accomplishment to reach the summit. Emanuele, our guide for the day, encouraged us all the way to the top.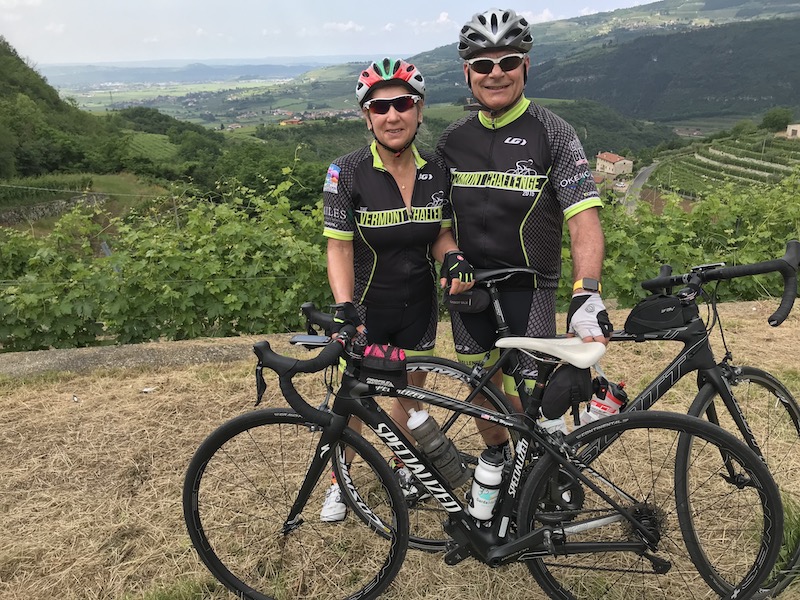 At the end of the day we rewarded ourselves with yummy gelato on the boardwalk.
A Rewarding Pitstop
A cyclists dream. After riding many miles, we made a welcome stop at the Solano Municipal Water Station with a choice of regular, chilled, or sparkling water ("water with gas").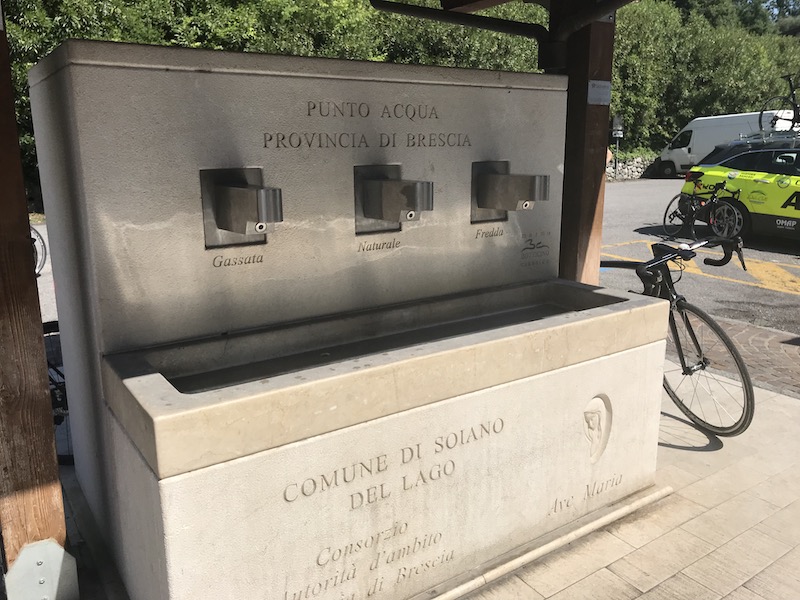 It doesn't get better than that!
Verona
We rode our bikes to Verona but found that we wanted more time to explore. So, on our rest day, we returned to the home of Romeo & Juliet.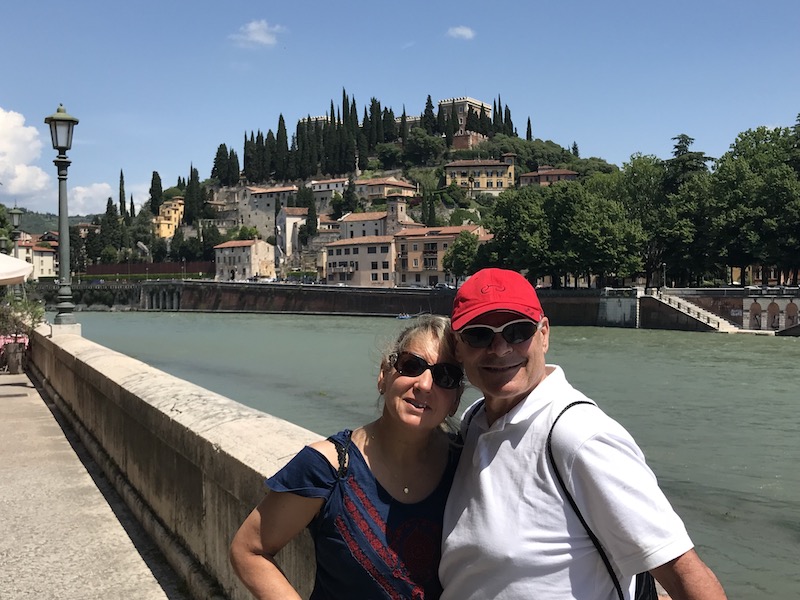 We visited the Arena di Verona (an ancient coliseum), the historic Basilica di San Zeno Maggiore, ate great food, and shopped for mementos. We were thrilled to stand in the footsteps of so many who had gone before us in this city filled with history and romance.
The Fortified Visconti Bridge
A drizzly day couldn't keep us from our bikes and fun explorations. Here we're at the Fortified Visconti Bridge built in 1387.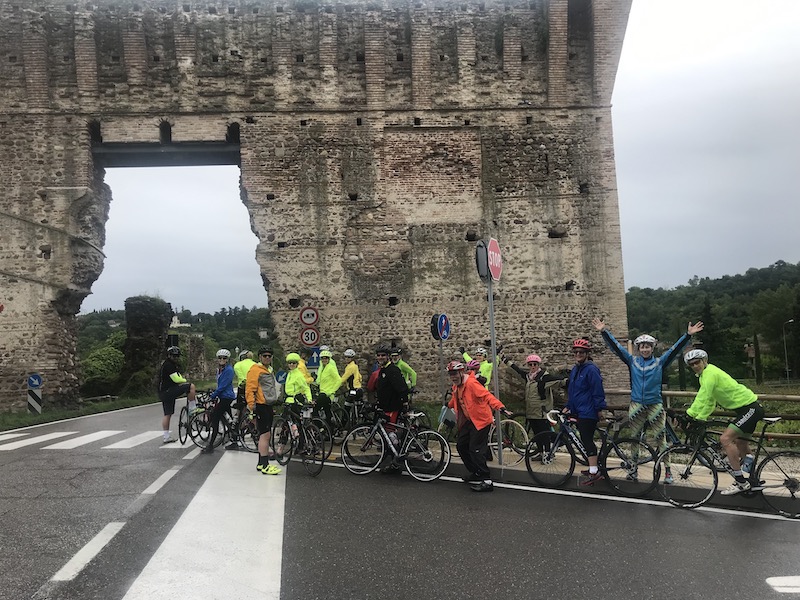 The history and age of this little village is mind boggling. People living and working in the same buildings for hundreds of years. This is so different from my culture which is constantly replacing.
Sylvan Lake
I cannot adequately express the joy that Joe and I felt on this adventure. Cycling through our own beautiful country with a group of wonderful like minded cyclists was a gift.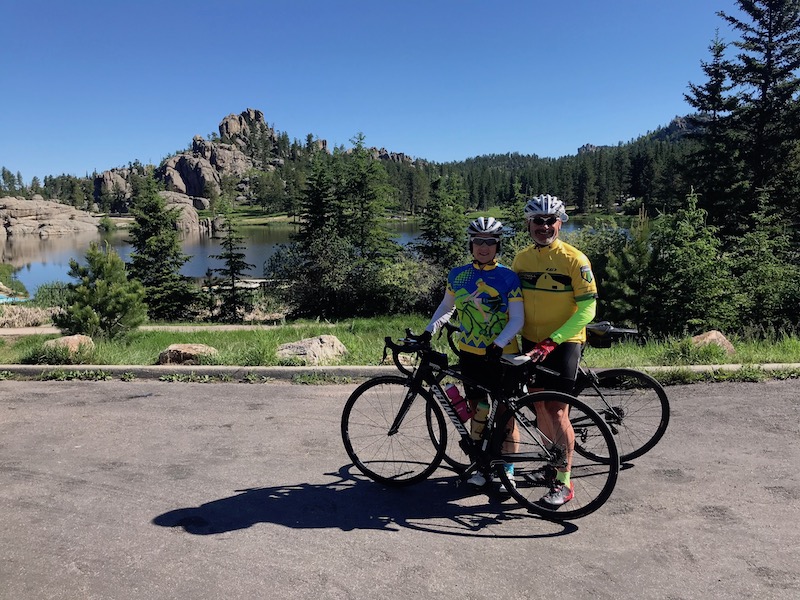 This photo was taken at Sylvan Lake as we were cycling on Needle Highway and on to climbing Mount Rushmore.
Blue Ridge Parkway
Joe and I were both so nervous before this trip on the Blue Ridge Parkway with Adventure Cycling.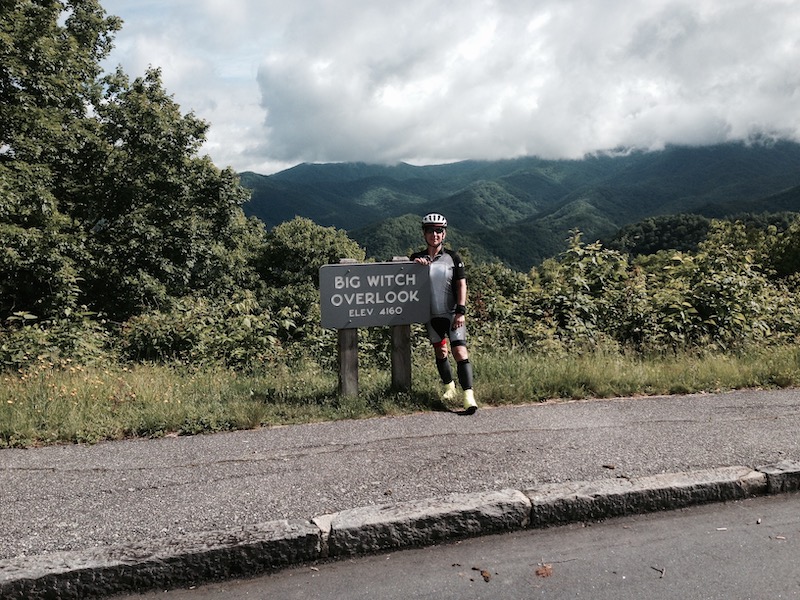 We weren't sure if we could keep up with the group and we were pleasantly surprised with our fortitude. It gave us confidence to continue our journey sometimes into the unknown.
More
These are only a small taste of all the wonders we've experienced on our bike travels. You should join us on a future trip to make your own memories!